General Info
Demographics
Education and Employment
Valuation and Taxes Levied
State Senators
History
County Programs
Other Information
Antelope County Seat: Neligh
Cities, Towns, and Villages: Brunswick, Clearwater, Elgin, Neligh, Oakdale, Orchard, Royal, Tilden
Number of Registered Historic Places: 12
Courthouse Address and Hours:
501 Main Street
Neligh, Nebraska 68756
M-F 8:00am-4:30pm
County Board Chairperson: Charles Henery
Complete list of county board members
County Board Meetings: 1st and 2rd Tuesday Each Month
NACO District: Northeast
District President: Monica Rotherham, Madison County Clerk of the District Court 
District Vice President: Lisa Lunz, Dixon County Supervisor
District Secretary: Sandy Zoubek, Stanton County Treasurer
District Treasurer: Krista Nix, Knox County Deputy Clerk
NACO Board Representatives: Bill Tielke, Holt County Supervisor 
General
Population: 6,279
Land area (sq. mi.): 563.27
Population per square mile: 55.4
Race
White: 94.2%
African American: 0.5%
American Indian: 0.6%
Asian: 0.5%
Hispanic: 3.9%
Native Hawaiian and Pacific Islander: 0.0%
Age
0-17: 24.4%
18-64: 51.3%
65+: 24.4%
Socioeconomic
Personal income per capita: $74,129
% of population in poverty: 10.4%
# of housing units: 3,139
Owner-occupied rate: 75.7%
Median home price: $96,970
Technology
Access to broadband (100 Mbps via fiber or cable model): 54.4%
Source: National Association of Realtors, Nebraska Library Commission, U.S. Bureau of Economic Analysis, U.S. Census Bureau
Unemployment rate: 1.6% (as of September 2022)
Number of early childhood care providers: 16
County-wide early childhood care capacity: 215
High school graduate or higher: 92.0%
Bachelor's degree or higher: 18.0%
County Employment Website: https://antelopecounty.nebraska.gov/available-positions
Local Area Higher Education (within 75 miles of county seat): Northeast Community College-Norfolk (37), Northeast Community College-O'Neill (41), Nebraska Indian Community College-Santee (60), Wayne State College (60), Central Community College-Columbus (74)
School Districts: Creighton Community Public Schools, Elgin Public Schools, Elkhorn Valley Schools, Neligh-Oakdale Schools, Plainview Public Schools, Summerland Public Schools
Agricultural Cooperatives: Aurora Cooperative, CVA, Farmers Pride
Electricity Providers: City of Neligh, Elkhorn Rural PPD, Nebraska PPD, North Central PPD, WAPA
Rail-served Communities: Brunswick, Orchard, Royal
Annual Gross Domestic Product (2020): $596,589,000
NOTE: For a list of child care providers in Antelope County, visit Nebraska DHHS or the Nebraska Resource and Referral System.
Sources: Nebraska Cooperative Council, Nebraska Coordinating Commission for Postsecondary Education, Nebraska Department of Transportation, Nebraska Office of the CIO, Nebraska Power Review Board, U.S. Bureau of Economic Analysis, U.S. Bureau of Labor Statistics, U.S. Census Bureau
2021
County levy rate: $0.2779 per $100 of taxable valuation
County property taxes levied: $6,839,593
Total local government property taxes levied: $29,017,249
Total taxable valuation: $2,460,901,512
Sources: Nebraska Department of Revenue, 2021 Certificate of Taxes Levied Reports,
Statutes and regulations:
Nebraska Administrative Code (Title 350)
Nebraska Revised Statutes (Chapter 77)
Neb. Rev. Stat. § 77-201(2) (Agricultural land horticultural assessment): "Agricultural land and horticultural land as defined in section 77-1359 shall constitute a separate and distinct class of property for purposes of property taxation, shall be subject to taxation, unless expressly exempt from taxation, and shall be valued at seventy-five percent of its actual value, except that for school district taxes levied to pay the principal and interest on bonds that are approved by a vote of the people on or after January 1, 2022, such land shall be valued at fifty percent of its actual value."
Neb. Rev. Stat. § 77-6703(1) (Tax credit for school district taxes paid): "(1) For taxable years beginning or deemed to begin on or after January 1, 2020, under the Internal Revenue Code of 1986, as amended, there shall be allowed to each eligible taxpayer a refundable credit against the income tax imposed by the Nebraska Revenue Act of 1967 or against the franchise tax imposed by sections 77-3801 to 77-3807. The credit shall be equal to the credit percentage for the taxable year, as set by the department under subsection (2) of this section, multiplied by the amount of school district taxes paid by the eligible taxpayer during such taxable year."
Senator(s): Tim Gragert (District 40)
Committees: Agriculture, Business and Labor, Natural Resources, State-Tribal Relations, Statewide Tourism And Recreational Water Access and Resource Sustainability (LB406)
Map of Nebraska Legislative District 40
Map of all districts in the Nebraska Unicameral Legislature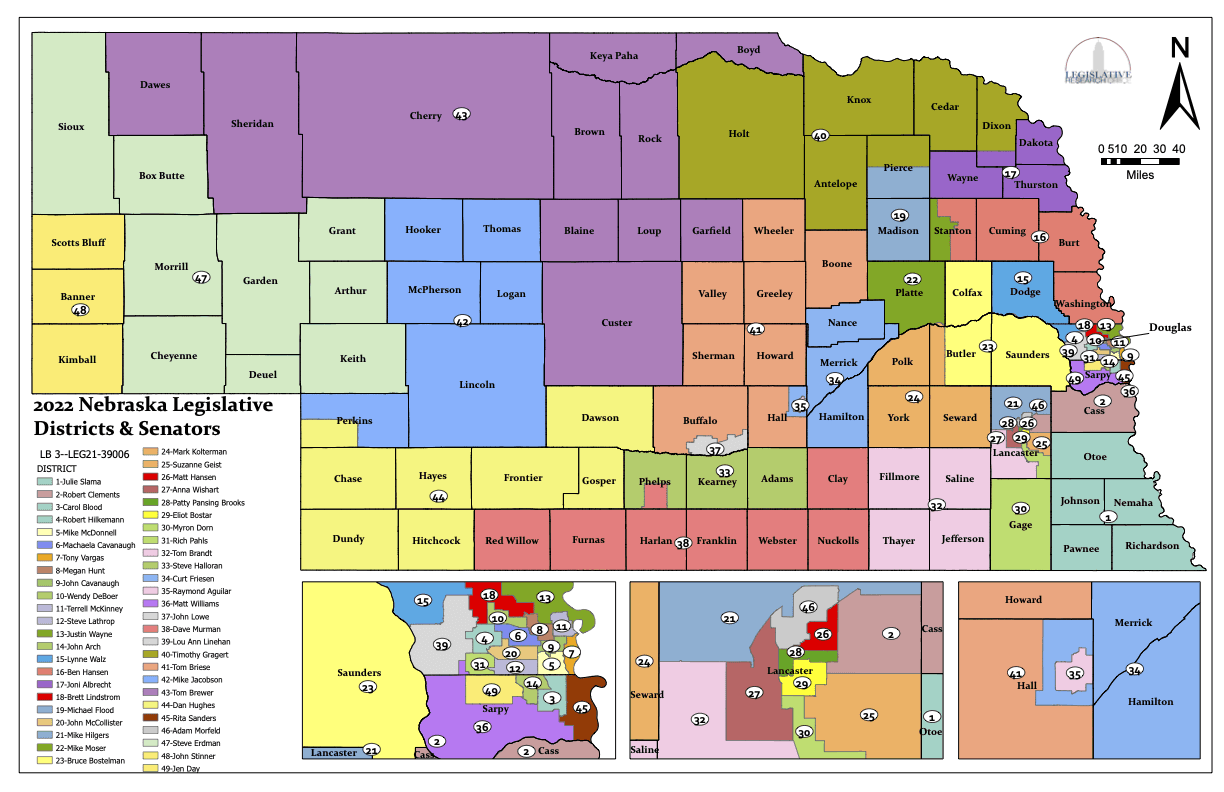 Antelope County History
Year Founded: 1871
Etymology: Local pronghorn antelope
     According to local tradition, a posse was pursuing a party of livestock thieves in northeast Nebraska when they ran low on food and only survived by hunting the local pronghorn. Although these animals are not true antelopes, they are known as such throughout North America, especially on the plains. Later in 1871, when the State Legislature was drawing the fledging county's boundaries and considering names, then-State Senator Leander Gerrard recalled the posse's adventure and suggested Antelope County.
     Oakdale initially became the county's temporary seat as a result of a delayed messenger. John Neligh had been exploring the Elkhorn River Valley when he decided to purchase over 500 acres of land and persuade county officials to select his site as the county's seat. He dispatched a messenger to declare his intentions to Antelope County voters, but the messenger got lost and failed to arrive in time for election day. Oakdale triumphed in the election as Antelope Valley's seat, but the victory was short-lived. During the construction of the new courthouse, a fire burned the building to the ground, and afterwards, a new election for county seat was held. Neligh, a more centrally located site with an extremely vocal advocate in its founder, was selected by residents as the new county seat.
     Among the hallmarks of early Antelope County were its fruit trees, including apple, plum, and cherry. The Neligh Mill was also a critical part of Antelope County, processing hundreds of thousands of bushels of wheat. Today, the mill is a popular tourist destination, as are the Ashfall Fossil Beds, home to well-preserved fossils of ancient hippos, rhinoceroses, horses, and camels.
Time Zone: Central
License Plate Number: 26
Zoned County: Yes
Number of Veterans: 448
Voter Turnout (2022): 56.80%
Emergency Mgt. Planning, Exercise and Training (PET) Region: Northeast
Number of County-Owned Bridges: 132
State Lands (acres): Grove Lake WMA (1,984.86), Hackberry Creek WMA (233.79), Red Wing WMA (320)
Sources: Nebraska Department of Transportation, Nebraska Emergency Management Agency, Nebraska Game & Parks Commission, Nebraska Legislature, Nebraska Office of the CIO, Nebraska Secretary of State, U.S. Department of Veterans Affairs, U.S. National Archives and Records Administration (eCFR)