General Info
Demographics
Education and Employment
Valuation and Taxes Levied
State Senators
History
County Programs
Other Information
Brown County Seat: Ainsworth
Cities, Towns, and Villages: Johnstown, Long Pine
Courthouse Address and Hours:
148 West 4th Street
Ainsworth, Nebraska 69210
M-F 8:00 am - 5:00 pm
County Board Chairperson: Raymond Small
Complete list of county board members
County Board Meetings: 1st & 3rd Tuesday
NACO District: Northeast
District President: Monica Rotherham, Madison County Clerk of the District Court 
District Vice President: Lisa Lunz, Dixon County Supervisor
District Secretary: Sandy Zoubek, Stanton County Treasurer
District Treasurer: Krista Nix, Knox County Deputy Clerk 
NACO Board Representatives: Bill Tielke, Holt County Supervisor 
General
Population: 2,908
Land area (sq. mi.): 1,211.36
Population per square mile: 2.4
Race
White: 91.4%
African American: 1.9%
American Indian: 1.9%
Asian: 0.2%
Hispanic: 5.1%
Native Hawaiian and Pacific Islander: 0.1%
Age
0-17: 21.7%
18-64: 52.4%
65+: 25.9%
Socioeconomics
Personal income per capita: $63,598
% of population in poverty: 10.8%
# of housing units: 1,639
Owner-occupied rate: 78.9%
Median home price: $100,520
Technology
Access to broadband (100 Mbps via fiber or cable model): 85.8%
Sources: National Association of Realtors, Nebraska Library Commission, U.S. Bureau of Economic Analysis, U.S. Census Bureau
Unemployment rate: 2.0% (as of September 2022)
County-wide early childhood care capacity: 12 providers; 134 children
High school graduate or higher: 95.5%
Bachelor's degree or higher: 24.2%
County Employment Website: https://browncounty.ne.gov/webpages/links/public_notices.html
School Districts: Ainsworth Community Schools, Keya Paha County Schools, Rock County Public Schools, Sandhills Public Schools, Valentine Community Schools
Grain Co-ops and Purchasers: Central Valley Ag, Pride Grain
Local Grain Market: Click for today's grain prices in Brown County
Electricity Providers: Custer PPD, KBR Rural PPD, Nebraska PPD
Rail-served Communities: Ayr, Gaines, Hastings, Hayland, Juniata, Kenesaw, Roseland
Annual Gross Domestic Product (2020): $197,581,000
NOTE: For a list of child care providers in Brown County, visit Nebraska DHHS or the Nebraska Resource and Referral System.
Sources: Nebraska Cooperative Council, Nebraska Coordinating Commission for Postsecondary Education, Nebraska Department of Transportation, Nebraska Office of the CIO, Nebraska Power Review Board, U.S. Bureau of Economic Analysis, U.S. Bureau of Labor Statistics, U.S. Census Bureau
2021
County levy rate: $0.2992 per $100 of taxable valuation
County property taxes levied: $2,675,560
Total local government property taxes levied: $11,839,166
Total taxable valuation: $894,125,478
Sources: Nebraska Department of Revenue, 2021 Certificate of Taxes Levied Reports
Statutes and regulations:
Nebraska Revised Statutes (Chapter 77)
Nebraska Administrative Code (Title 350)
Neb. Rev. Stat. § 77-201(2) (Valuation of agricultural land and horticultural land): "Agricultural land and horticultural land as defined in section 77-1359 shall constitute a separate and distinct class of property for purposes of property taxation, shall be subject to taxation, unless expressly exempt from taxation, and shall be valued at seventy-five percent of its actual value, except that for school district taxes levied to pay the principal and interest on bonds that are approved by a vote of the people on or after January 1, 2022, such land shall be valued at fifty percent of its actual value."
Neb. Rev. Stat. § 77-6703(1) (Tax credit for school district taxes paid): "(1) For taxable years beginning or deemed to begin on or after January 1, 2020, under the Internal Revenue Code of 1986, as amended, there shall be allowed to each eligible taxpayer a refundable credit against the income tax imposed by the Nebraska Revenue Act of 1967 or against the franchise tax imposed by sections 77-3801 to 77-3807. The credit shall be equal to the credit percentage for the taxable year, as set by the department under subsection (2) of this section, multiplied by the amount of school district taxes paid by the eligible taxpayer during such taxable year."
State Senator: Tom Brewer (District 43)
Committees: Agriculture, General Affairs, Government, Military and Veterans Affairs
Map and statistics for Legislative District 43
Map of all districts in the Nebraska Unicameral Legislature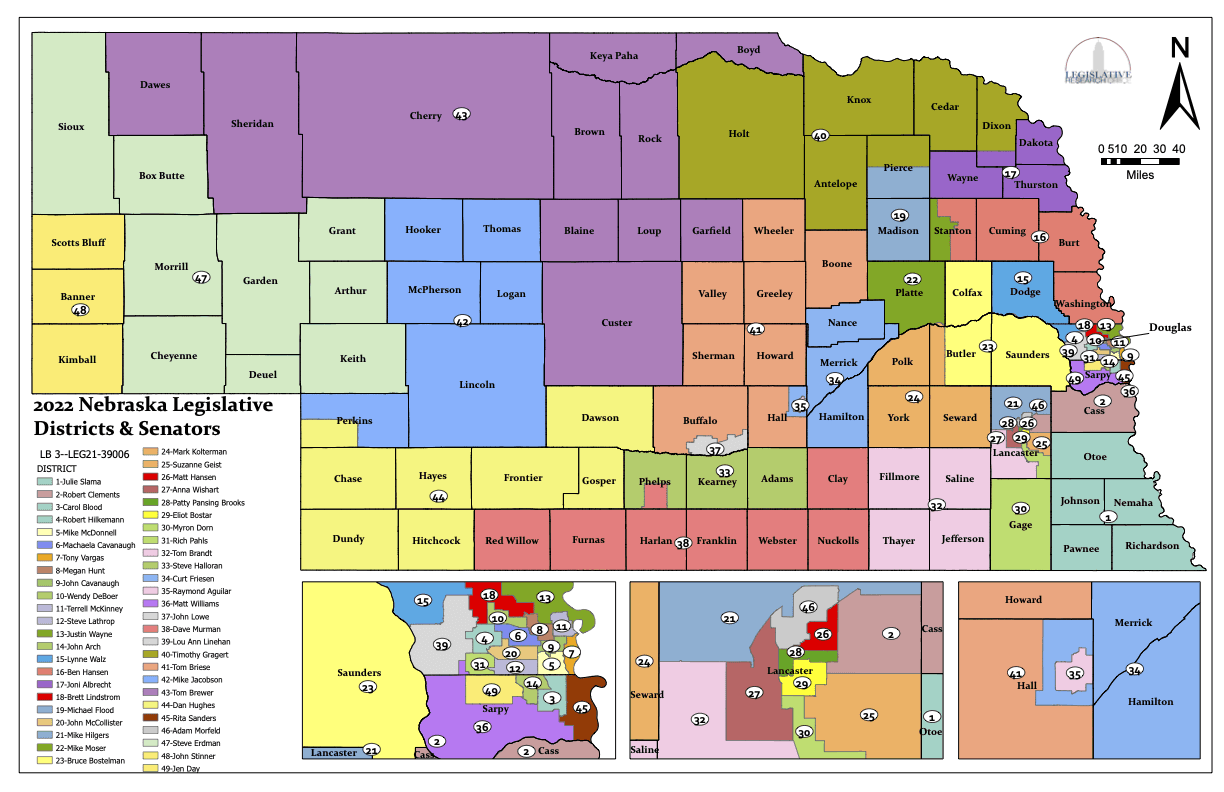 Brown County History
Number of Registered Historic Places: 1
Year Founded: 1883
Etymology: Disputed; Brown family (early Nebraska settlers); legislators who sponsored bill creating the county
     The exact origin of Brown County's name is disputed, as several early settlers and senators who sponsored the county's creation bore the last name of Brown. Although on the northeast edge of the Sandhills, Brown County was once part of an organized territory that stretched as far west as Sioux County. In 1883, Brown County was organized, only to be divided in half in 1888, giving rise to adjacent Rock County. 
     The early years of Brown County were characteristic of many counties in the Sandhills, namely, residents were largely ranchers and cowboys, veterans of the dwindling cattle drives in the late 1880's. Later, covered wagons and various railroad lines introduced farmers who would later grow award-winning wheat in the region. Ainsworth (named for an engineer who help bring the railroad to the region) became the county seat in 1883, firmly establishing the city as a central place of commerce in north central Nebraska. 
 
License Plate Number: 75
Time Zone: Central
Zoned County: Yes
Number of Veterans: 182
Voter Turnout (2022): 54.24%
Emergency Mgt. Planning, Exercise and Training (PET) Region: North Central/Sandhills
Number of County-Owned Bridges: 46
Number of County-Owned Dams: 1
County Hospital: Brown County Hospital
State Lands (acres): American Game Marsh WMA (160.55), Bobcat WMA (893), Keller WMA (640), Keller Park SRA (196), Long Pine WMA (160), Long Pine SRA (154), Pine Glen WMA (960), Plum Creek Valley WMA (1,320), South Pine WMA (442.96), Willow Lake B.C. WMA (511), Yellowthroat WMA (480)
Sources: Nebraska Department of Transportation, Nebraska Emergency Management Agency, Nebraska Game & Parks Commission, Nebraska Legislature, Nebraska Office of the CIO, Nebraska Secretary of State, U.S. Department of Veterans Affairs, U.S. National Archives and Records Administration (eCFR)